"A company must plan for the next three months, three years and three centuries"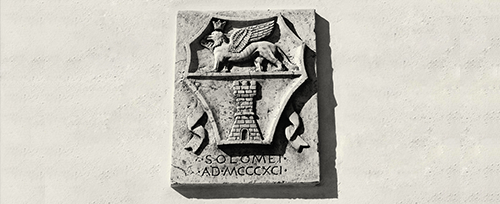 In 1978 the initial core of a company was established driven by the desire to create a different way of doing business in the twenty-first century; it was to be based on a contemporary form of humanism that over the years the international press has identified as a "humanistic" capitalism, where profit can be sought without damaging mankind.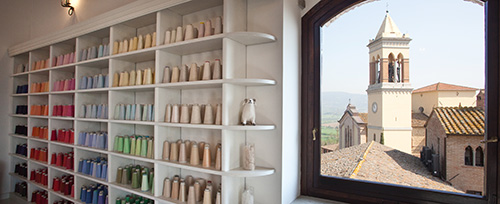 Success came from a basic intuition: dying cashmere, which until then had mainly come in natural or more basic colours.

---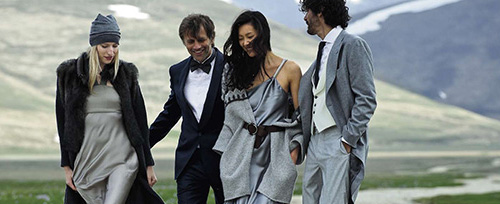 The company found its ideal location in the ancient hamlet of Solomeo, where its headquarters were moved in 1987, inside the fourteenth-century castle that had been restored for this precise purpose. Since then Solomeo has represented one of the company's distinctive features: the coat of arms of the hamlet and the image of the castle both feature in the "Brunello Cucinelli" brand itself.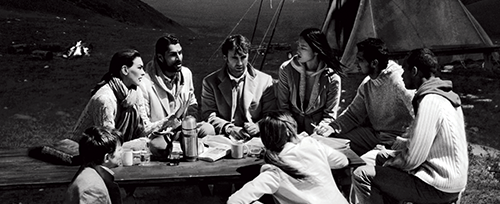 Since the second half of the Eighties, the company has consolidated its production and sales by adding the manufacturing of women's trousers and skirts to its cashmere range followed by the first men's collection; the penetration of some foreign markets also started back then with the development of the multibrand wholesale distribution channel.
---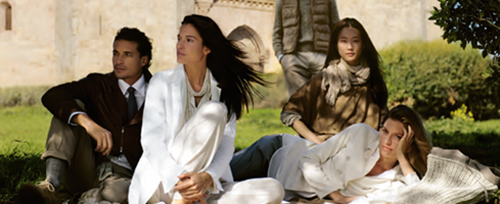 In the early 2000s the product range was expanded and completed to become a "total look" for womenswear and menswear; furthermore, in-house skills were developed to manufacture new products, thus establishing a highly recognizable style for the brand. At the same time, the first selected monobrand stores were opened – directly operated or through local partners – in exclusive locations in Italy and abroad.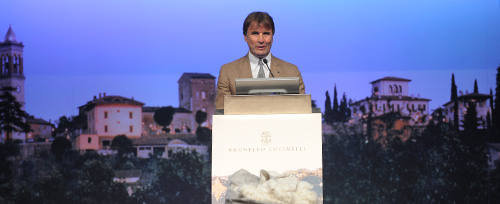 In April 2012 Brunello Cucinelli successfully led the company to its listing on the Milan Stock Exchange and closed the roadshow one week in advance as the shareholders' book had already been covered 17 times. At the end of the first day of trading, the stock had reported an almost 50% increase against the initial price of 7,75€, thus achieving the highest leap from the IPO price in years.
Brunello Cucinelli's intention with the listing on the Stock Exchange was to ensure a longer life for his company through financial soundness and international shareholders, while preserving the brand's allure, philosophy and founding values.

---