The Theatre and the Academy
"Art, culture and spirituality meet in absolute freedom to enhance human awareness"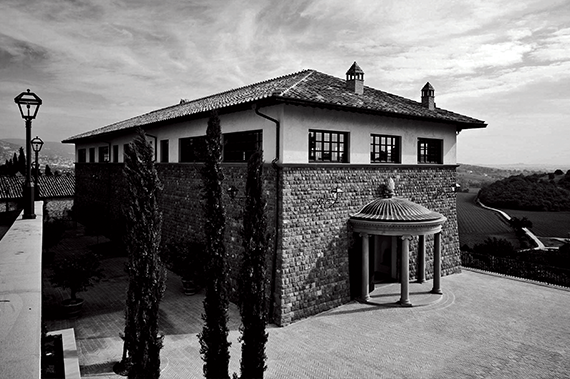 The theatre bearing Brunello Cucinelli's name is the expression of his love for art and it is a feather in Solomeo's cap. It was opened in 2008 and it hosts top class performances and cultural activities, becoming a strongly distinctive feature of the company just like the restoration of the village.

The actual building was inspired by the shapes of the late-Renaissance buildings in Sabbioneta as well as the Farnese Theatre in Parma: with its 240 seats, its classic elegance, its excellent acoustics and its distinctive exterior features with local filaretto stone, the Cucinelli Theatre is located within the Forum of the Arts together with the Amphitheatre, where outdoor plays are held, the Garden of Philosophers – a group of terraces looking onto the breath-taking undulating Umbrian landscape in an ideal setting for meditation – and the Aurelian Neo-humanistic Academy.

The latter was inaugurated in 2010 and its structure is also of classical inspiration; it is a meeting point designed to nourish the soul with an extensive library and humanistic seminars on art, history and philosophy, but also a strongly contemporary venue to stir personal reflection and mutual exchange.

As a whole, this complex of impressive buildings therefore draws inspiration from the typically humanistic ideal of guardianship, tirelessly pursued by Brunello Cucinelli in the wake of the great figures of the past, in order to improve the human being by recovering and joining his values to those of art and spirituality.