The allure of the brand is reflected in an exclusive ready-to-wear offering that expresses the entire Brunello Cucinelli universe; end consumers define it as "an exclusive and contemporary lifestyle".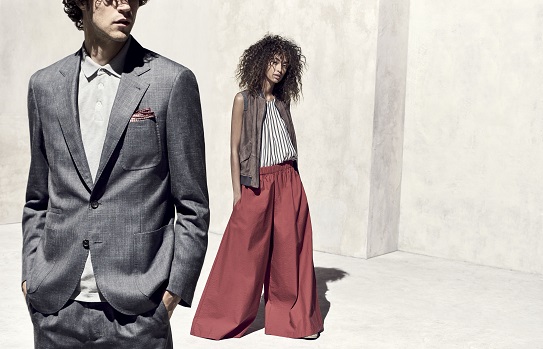 The offering of truly Italian, top quality products is combined with a style that luxury high-end consumers consider to be sophisticated and with a refined taste, developed within a business model that has always been sensitive to sustainability and healthy, "gracious" growth.

The brand's selected presence in the leading cities and resorts worldwide, as well as in the most exclusive sales spaces in multibrand and luxury department stores, supports and strengthens the positioning acknowledged to it by the final consumer, i.e. at the top end of the luxury segment.

The offering, an expression of everyday luxury, is presented under the unique Brunello Cucinelli brand and it includes a complete collection of clothing, accessories and lifestyle, which has evolved constantly over the years from its origins in the world of cashmere.

The expanding demand for "exclusive luxury" products testifies to an evolving consumer, who is now sophisticated and receptive not only to quality, but also to the production process and the sustainability, dignity and ethics of the manufacturer.

The sustainability of the business model and the consistent and ongoing focus on brand prestige ensure a firm position in the high end of the luxury segment.

The allure of the brand is expressed by a proposal that started from specialised knitwear products and became an exclusive Prêt-à-porter offering that expresses the entire Brunello Cucinelli universe; end consumers themselves define it as "a modern and contemporary lifestyle".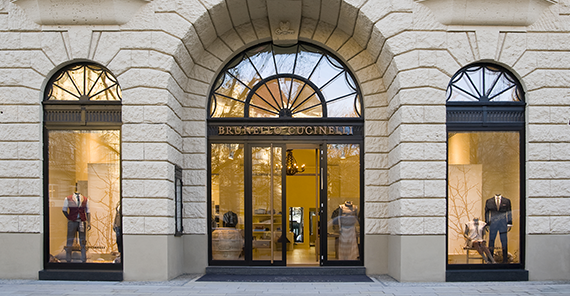 Product evolution: from Cashmere to "Lifestyle"


Chic prêt-à-porter. Expression of Everyday Luxury
Total Look and Lifestyle offering
Tireless search for new trends, developments and innovations in style, look and fabrics
Offer targeting sophisticated customers with a refined taste both for womenswear and menswear
Modern and contemporary style that allows for cross-age collections
Cashmere and knitwear – the DNA of the company
The product category that has made the brand world famous
The international press often calls Brunello Cucinelli "The King of Cashmere"
Wide range of products, both for men and women
The women's collection: SS 17
A new style map has been drawn up to overcome all conflicts and blur boundaries: every look is a snapshot, capturing the union of worlds, colour synergies and fresh new interpretations.
All elements are harmoniously composed through an informal and sophisticated feeling, completed by colour notes, golden flashes and special techniques.
The men's collection: SS 17
Transported in the summer atmosphere, the collection develops an elegance through movement, capable to merge seaside atmospheres and elegant dinner parties, relaxed moments and informal encounters.
The elegance of a tailored jacket is in dialogue with exquisite more informal elements. An important palette endows the season's look with a refined game of tonalities, modulation and chiaroscuro.
---