At 31 December 2021 the share capital, fully subscribed and paid-in, amounted to €13,600,000 and was divided in 68,000,000 no-par value dematerialized ordinary shares.

Each ordinary share carries the right to one vote in ordinary and extraordinary meetings of shareholders, as well as all the other administrative rights provided for by the applicable laws and By-laws provisions.

The Company has no share buyback programs in place and, at 31 December 2021, it did not have any treasury share. At 31 December 2021 there were no voting or any other classes of shares in issue other than ordinary shares. In addition, no financial instruments were issued which carried the right to subscribe to new shares.

Brunello Cucinelli S.p.A. is controlled by Fedone S.r.l.. On 25th June 2014 Mr. Brunello Cucinelli established an irrevocable trust, "Trust Brunello Cucinelli", transferring his entire participation in Fedone S.r.l. (equal to 100% of the share capital) to Spafid Trust S.r.l. (Esperia Trust Company S.r.l), which has received such participation as trustee.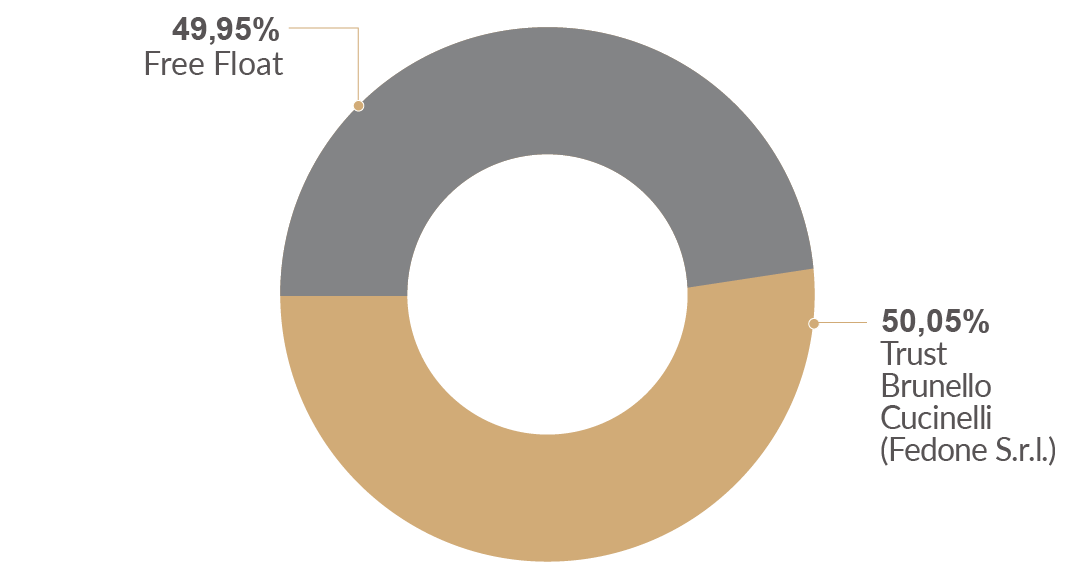 Based on the disclosures made pursuant to article 120 of the Consolidated Law on Finance (TUF) and other information available to the Company.
Based on the disclosures made pursuant to article 120 of the Consolidated Law on Finance (TUF) and other information available to the Company, significant holdings in the Company were as follows:

| Shareholder | Shareholding in the ordinary share capital |
| --- | --- |
| Trust Brunello Cucinelli (Fedone S.r.l) | 50,05% |
| FMR LLC (Fidelity) | 9,48% |
| Invesco LTD | 4,16% |